Cultural ReProducers
Propositions, Manifestos and Experiments (+ poster)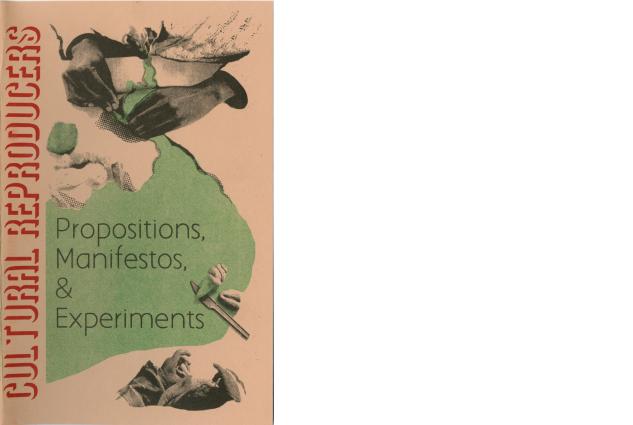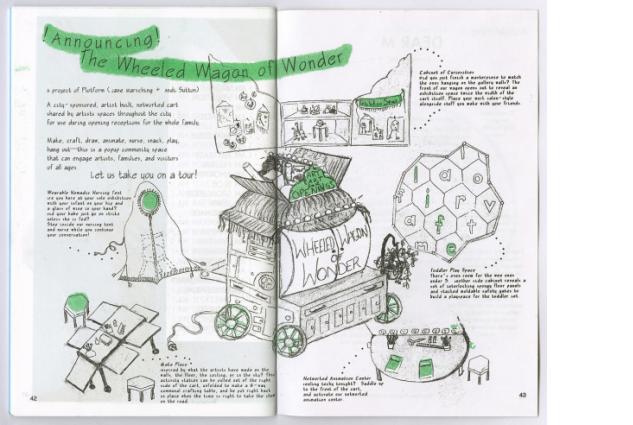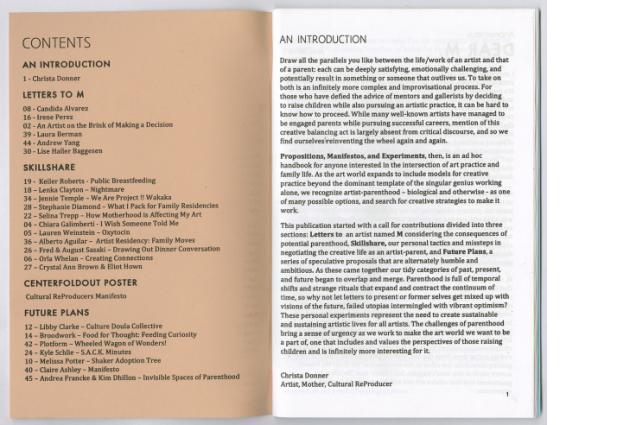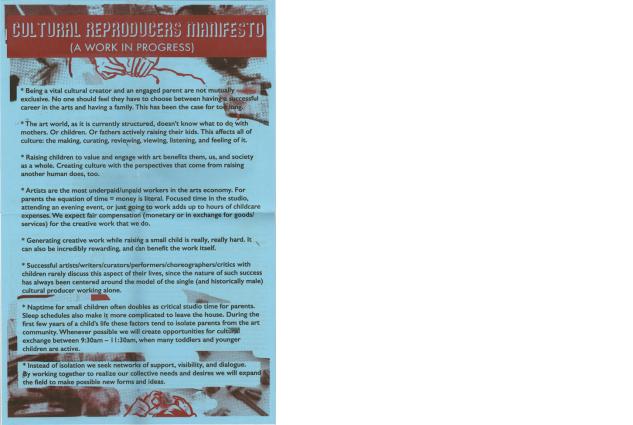 Draw all the parallels you like between the life/work of an artist and that of a parent: each can be deeply satisfying, emotionally challenging, and potentially result in something or someone that outlives us. To take on both is an infinitely more complex and improvisational process. For those who have defied the advice of mentors and gallerists by deciding to raise children while also pursuing an artistic practice, it can be hard to know how to proceed. While many well-known artists have managed to be engaged parents while-pursuing successful careers, mention of this creative balancing act is largely absent from critical discourse, and so we find ourselves reinventing the wheel again and again.
Propositions, Manifestos, and Experiments, then, is an ad hoc handbook for anyone interested in the intersection of art practice and family life. As the art world expands to include models for creative practice beyond the dominant template of the singular genius working alone, we recognize artist-parenthood - biological and otherwise - as one of many possible options, and search for creative strategies to make it work.
This publication started with a call for contributions divided into three sections: Letters to an artist named M considering the consequences of potential parenthood, Skillshare, our personal tactics and missteps in negotiating the creative life as an artist-parent, and Future Plans, a series of speculative proposals that are alternately humble and ambitious. As these came together our tidy categories of past, present, and future began to overlap and merge. Parenthood is full of temporal shifts and strange rituals that expand and contract the continuum of time, so why not let letters to present or former selves get mixed up with visions of the future, failed utopias intermingled with vibrant optimism? These personal experiments represent the need to create sustainable and sustaining artistic lives for all artists. The challenges of parenthood bring a sense of urgency as we work to make the art world we want to be a part of, one that includes and values the perspectives of those raising children and is infinitely more interesting for it.
-- Christa Donner Artist, Mother, Cultural ReProducer
Contributors:
Christa Donner, Candida Alvarez, Laura Berman, Andrew Yang, Lise Haller Baggesen, Keiler Roberts, Lenka Clayton, Jennie Temple, Stephanie Diamond, Selina Trepp, Chiara Galimberti, Lauren Weinstein, Alberto Aguilar, Fred & August Sasaki, Orla Whelan
Crystal Ann Brown & Eliot Hown, Libby Clarke, Broodwork, Plotform, Kyle Schlie, Melissa Potter, Claire Ashley, Andre Francke & Kim Dhilon